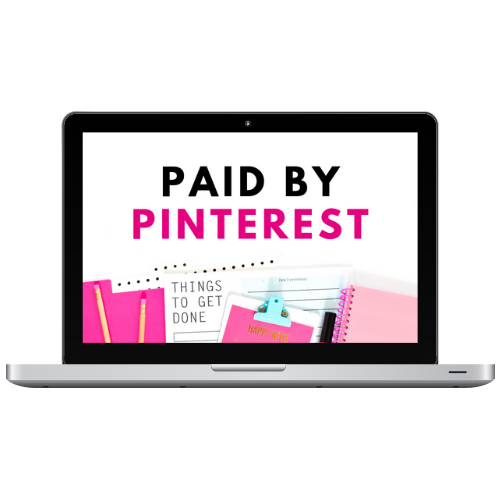 Did you know, thousands of people around the world are making a living right now by using Pinterest as a marketing & advertising platform to sell their very own products and services?
We use Pinterest a lot through out the week with Delux Designs (DE), LLC, especially on days new blog posts are uploaded. From regular pinning to participating in group and communities activities, there are endless amounts of opportunities you can use for yourself just through Pinterest alone.
---
One way we have learned how to use Pinterest to sell our merchandise and artwork, along with using it towards the monetization of our blog and website, is from our affiliate partner House of Brazen Teachable course called Paid by Pinterest.
Learn the basics you need to jumpstart your success with Affiliate Marketing and Pinterest, find an affiliate product to promote and learn where to find the best group boards to increase your affiliate sales.
Take House of Brazen's step-by-step tutorial on how I created my perfect affiliate pins from start to finish using Canva. Plus, learn what my not so "secret" strategy is to creating high-converting affiliate product pins.
Replicate of what House of Brazen did to make pins go viral by learning the exact promotional strategy used on Tailwind that not only makes you money on autopilot but has the potential to triple your income.
What's included:
House of Brazen's strategy proven to teach you how to make your first affiliate sale in 24 hours using Pinterest
How you could potentially triple your sales in the same week using the "viral pin" strategy
The Affiliate Marketing & Pinterest basics you need to make sales
House of Brazen's process to creating & designing perfect pins using Canva
Why and how to leverage group boards to maximize your affiliate sales
*BONUS* A 45-minute workshop on how to increase your traffic, subscribers & sales
*BONUS* The ultimate resource for over 1000+ Pinterest group boards in all niches
*BONUS* Plus, you'll get House of Brazen's ebook $10k in 12 months (Value: $25)
Outside of everything included in this course, the best perk I noticed about this opportunity is that it is not limited to just bloggers, it applies to anyone with a Pinterest page including small business owners, painters, designers.
---
Disclaimer: Affiliate links have been included in this post in which Delux Designs (DE), LLC receives a commission from any sales made through this post. We assure you, the products featured through DE from product reviews are products that we recommend based off of our own personal experiences from using them.


---
For continuous updates on all new art work, art events & much more follow our social media page links listed below. Thanks for your support everyone!
Facebook | Instagram | Pinterest | Tumblr | Twitter