Douglas, Keara. Music Listening Collection. Mixed Media. 2015 – 2018.
Delux Designs (DE), LLC newest painting series collection is based off of listening to music albums from various music artists including all genres of music. Our Music Listening Painting Series is a series of acrylic expressions created from highlighting the use of layers throughout each piece, along with expressing feelings of each song played from each album. So far we have four different paintings based on four different albums, from four different music artists complete for the collection shown below painted by visual artist @K_DougDE.
Douglas, Keara. 2017. Broken Clocks. Mixed Media. 18 x 24 inches. Canvas Panel.
Broken Clocks is based off of rising music artist SZA's CTRL album that was released earlier this year. Each layer was created from listening to each song of the album. For instance, the first layer was created with baby blue Anita's acrylic paint after a feeling of "calmness" from listening to the first song on the album titled, Supermodel. Second song, Love Galore, brought a feeling of love but a calming feeling of love so light pink was used on top of it. This method was used throughout the entire album until I reached track 9 titled, Broken Clocks. This is where I added two black clock images, one as a main focus and another fading away in the background towards the bottom of the painting. This method of adding a bold focal point image is the main thing that ties in all of our Music Listening paintings apart of the collection in which the layering technique is being used. Ultimately, that song was the main influence of this particular painting. When I first heard the song, I instantly could relate to it personally. I felt as though she was saying that time was just flying by her, as though the clocks were broken and the hands on the clocks were just spinning in circles out of control. To visually show this, I began to scrap my paint in the interior of the clock shape to symbolize time moving fast. I also felt as though she meant that with time being broken, that she had not accomplished anything that she believed was valuable, she spoke a little on this in the last song on the album 20 Somethings. The dark feel of the painting symbolizes this as well.
Douglas, Keara. 2017. Anti. Mixed Media. 11 x 16 inches. Canvas Panel.
Anti is based off of award winning singer Rihanna's Anti album. For this one, I kept the color palette simple by only using four different colors that include light pink, red, gold, and black. Again for each song a new layer was created and the painting was built from there. The first song on the album is called Consideration featuring SZA, whom our first painting mentioned above is based off of. For the first song on the album, I felt unrest or uneasy while listening to it for some reason. Rihanna spoke on not getting any peace throughout the hook of the song so I decided to paint some harsh red lines to start this piece off. Next song, James Joint, felt more lovey dovey so I did some soft pink strokes on top of the red. It wasn't until I reached the 4th song on the album, Work, where I really began to see the painting turning into something. I added in some black strokes, along with pouring glitter over those strokes for a shine effect. I know in school I was always taught to stay away from glitter with paintings but I enjoy it from time to time, just not a lot of it. The song Desperado is where the symbol in the middle, or focal point, of the painting began to start. At first I was going for a crown, but the more I listened to the song, these sharp points kept coming to mind that you see towards the top of the image. It just seemed to fit with the words being said throughout the song, especially when Rihanna kept saying "there ain't nothing here for me anymore, but I don't want to be alone". The sixth song on the album is where the harsh and bold outlining of the focal point came in, along with the gold paint filling. Needed Me brought in the faded hearts which symbolize the idea and feeling of love fading away. Red outlines were also placed around the focal point image at this point as well. That soft pink paint was brought back during Yeah, I Said It to show how it seemed like a softer and more sexual Rihanna was coming back into play during the album. This time instead of creating lines with it, I created bigger brush strokes, along with adding more gold glitter. Now the Anti album I listened to was the extended edition that included Goodnight Gotham. During this song, is where the chess piece focal point really came out. I'm not sure why I decided to go with a chess piece till this day but it seemed to fit the best with the content of her songs. She seemed to be playing a game throughout the album, making smart moves around a man who believed to be playing games with her, referencing back to the main song of the album Needed Me.
Douglas, Keara. 2017. DNA. Mixed Media. 18 x 24 inches. Canvas Panel.
The third painting of our collection is called DNA inspired by award winning rap artist Kendrick Lamar's album, DAMN. At first I wanted to put a portrait of Kendrick Lamar for the first layer. Then I changed my mind and just stopped on the portrait and covered it by pouring acrylic paint over the beginning sketches. Next I rotated the canvas and did the same pouring method for all four sides. A couple layers were added with more water than paint next for the third through fifth songs on the album for at least three different layers from rotating the canvas as well. As I done that, I also began adding in one hexagon shape in the middle and two trapezoid shapes attached to it, symbolizing "dna". After getting the shapes how I wanted them, I moved on to shading in the interior of each one, while also making sure I kept the original portrait sketches from being covered. Listening to Kendrick Lamar's latest album, I got a feeling of "mess". I'm not sure why but that's the best word I could describe my feelings from listening to it. Some songs made me feel like they were touching basis on "blood shed" so that's why the painting included a lot red paint. The sketch came in great for a final touch as it represents the idea that Kendrick Lamar often times stays behind the scenes working on his music more than being out and about and always on the scene with social media and that sort of thing. He is covered by his craft.
Douglas, Keara. 2018. Love Frames. Mixed Media. 9 x 12 inches. Wrapped Canvas.
Love Frames was created from listening to legendary music artists and power couple Beyonce and Jay-Z's latest album Everything is Love. The first layer was a light blue paint to go along with the first track on the album 'Summer Love'. I automatically thought about beach water and blue skies when I heard it, plus it reminded me of a slower and daytime version of Drunk in Love track from the couple released a couple years ago as well. After that I mixed in some reds for the remainder of the album as a representation of love until the very last song, Love Happy. For that one, I added in the picture frames because typically a happy and loving couple will often times take many pictures together. You can see their happiness. The video for the song Ape Shit reminded me of picture frames that you may see in a museum so that's where that symbol comes from fully. I interlocked the frames to symbolize "love". This is also a symbol of Beyonce and Jay-Z being married as well sort of like when you see two wedding bands in pictures interlocked, I replaced the wedding bands with picture frames.
Douglas, Keara. 2015. Tiller. Mixed Media. 12 x 12 inches. Wrapped Canvas.
Tiller is one of the oldest paintings from our Music Listening Series Collection. It was the first painting of the collection, however, created back in 2015. This one is where you can clearly see the layers used for each song of Bryson Tiller's first album. There was more than acrylic paint used though. For this one I did add in glitter, along with small strips of paper with key words from some of his songs painted onto the painting. At first, I was going to use glue, but the paint worked out perfectly to keep each paper piece in place. The main focal point for this painting is a black heart. I decided to go with a heart because his album is slightly about love, but I kept the heart black and open to symbolize and represent his heart break depicted throughout the album. His heart is there but it has been damaged which makes it open.
---
The purpose of this series is to highlight my favorite music albums based off of how they make me feel. Music is like another way of therapy for me, as it is for many people and even some of you that are reading this right now. Each Music Listening Session Painting channels that therapy into permanent artwork. If you would like to purchase any of the original paintings included in this post, feel free to click here. You can purchase any of them directly off of our website for your convenience and shipping is FREE. Please keep in mind that these paintings are unframed. Some are on canvas panels and others are on wrapped canvas boards. All Music Listening Session Paintings are hand painted by Visual Artist Keara Douglas (@K_DougDE) and only one original painting is available. Prints are available for each painting through our affiliate partner Society6. You can check them out below for purchase as well.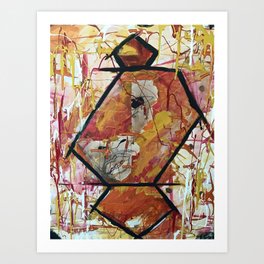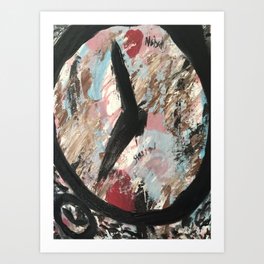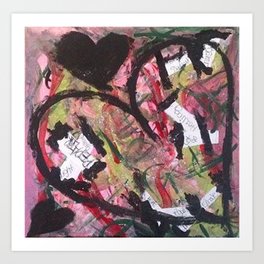 ---
Materials Used:
–Hobby Lobby's Anita Acrylic Paint
-Cheap Joe's Art Supply Canvas Panel
-Cheap Joe's Art Supply Wrapped Canvas
-Hobby Lobby Glitter
-Artist Loft Paint Brushes
-Matte Medium
---
Disclaimer: Affiliate links have been included in this post in which Delux Designs (DE), LLC receives a commission from any sales made through this post. We assure you, the products featured through DE from product reviews are products that we recommend based off of our own personal experiences from using them.
---
For continuous updates on all artwork, art events and much more follow our social media page links show below. Thanks for your support everyone!
Facebook | Instagram | Pinterest | Tumblr | Twitter