Have you ever visited someone's house and upon entering the front door they asked you to take your shoes off? Have you ever wondered why this is often done in residential homes? Well that is the topic today for #DEArtMom's post of the week. We are going to discuss and share why this is so important when you have a newborn in the home.
Removing your shoes upon entering your home or anyone's home is a fading tradition that really needs a big return in our day and age. We are going through a tough time period of diseases and illnesses, for an example the coronavirus or COVID-19 is living proof, and this one simple routine could help counter these tough times in our own households for our own children and our own health.
Just think about it.
If you have a newborn in your home, or an infant, say around 6-8 months old and they are crawling around on your carpet and tile floors on a regular basis don't you think it would be best to eliminate as much dirt as possible on those surfaces as much as you can? This is not to say that there won't be some dirt and bacteria as we can't 100% eliminate everything unless we just don't walk on that surface and even then there would still be some dust particles present. But we can stop tracking that dirt and grim inside from outside by removing our footwear at the front door.
This will not only begin a more healthy practice of having a cleaner home for a small child, but it would also help towards the hassle of cleaning floors daily through sweeping and vacuuming on a regular. Tile is easier to clean because it is flat and visible all the way to the bottom of it. But carpet can trap dirt and bacteria that you may never be able to get out no matter how many times you vacuum it once it's walked over with your shoes on.
Removing your shoes at the door also eliminates possibility of choking hazards for small crawling infants. That's right you are bringing in things from the home that have a potential to make a baby choke to death from simply not removing your shoes each time you enter your home. For example, if you have a gravel driveway and walk on it and then walk into your home with gravel rocks stuck under your sneakers just to walk over your carpet and that gravel drops from your shoes into to the carpet, it is now visible to an infant to pick up and swallow.
Solutions:
A solution to solve this problem and to help towards keeping your home clean and baby proof from the outside world would be having a shoe rack by your door area that you mainly use to enter and exit your home. This could be a door entryway area, or even inside your garage before entering the door of your home. Check out some options included below from our affiliate partner Target: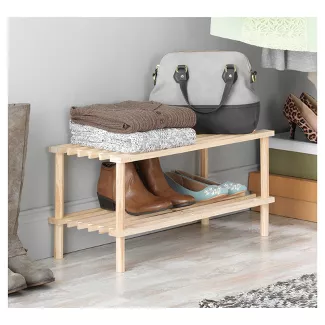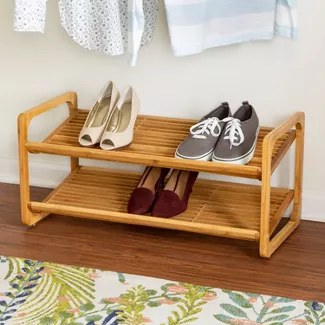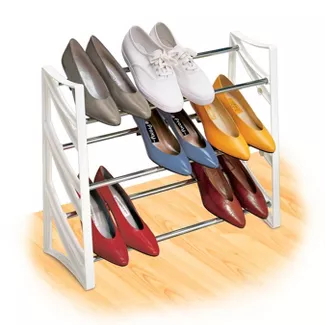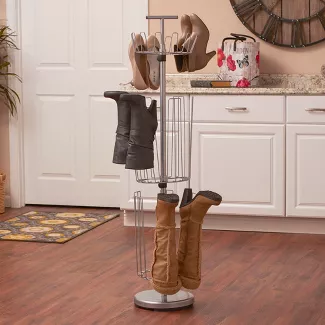 ---
Shop This Post
---
Disclaimer: Affiliate links have been included in this post in which Delux Designs (DE), LLC receives a commission from any sales made through this post. We assure you, the products featured through DE from product reviews are products that we recommend based off of our own personal experiences from using them. All pregnancies are not the same and everyone doesn't go through the same things. My pregnancy experience is not the same as anyone else's. The views and statements made through #DEArtMom blog segment of Delux Designs (DE), LLC does not reflect the experiences and views of other women whom are or have been pregnant before. The statements and posts of this blog segment are not a reflection of any licensed physicians or doctors and should not be attempted or duplicated by anyone that is currently pregnant or trying to become pregnant. Always consult with your own physician or doctor before taking any medications or trying any pregnancy practices found online.
---
For continuous updates on all new mommy and parenting blog posts, product reviews, product hauls & much more follow our social media page links listed below. Thanks for your support everyone!
Facebook | Instagram  | Medium | Pinterest